Lyman, ME | (207) 499-2989
Labradoodle Puppies by Southern Maine Labradoodles
Welcome to Southern Maine Labradoodles in the beatiful state of Maine. We are a small breeder of Labradoodles here in New England.
We breed miniature and medium Australian/American Labradoodles.  Our two founding females are pure American and all of our studs have been Australian. All of our breeders are family pets that live in our home with us or in their ownguardian home.  This way they can retire with the family they grew up with.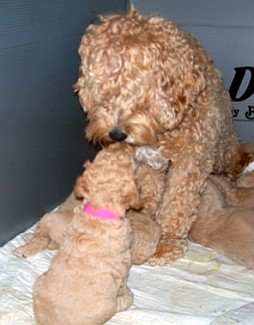 Our pups are socialized with adults and children of all ages starting at about 4 weeks. We have personally found Labradoodles to be amazing dogs. Labradoodles are loyal, playful, extremely smart and great members of the family. You can train them to do just about anything with the right training.
Labradoodles often have low to no shed coats and usually are allergy friendly. But be aware there are no guarantees that they won't shed. Our goal is to do our best to produce non shedding or the lowest shedding pups that we can. In the 10 years I have been doing this we have so far not produced any shedders.
To learn more, view this informational video about Labradoodles on AnimalPlanet.com
Pictures are up of Rubys puppies. THey are so cute and all look so much alike. 
Hope, Harley and Lola's pups have all gone home. The last one left yesterday. This process always warms my heart and makes me so happy. Sending puppies home is a feeling I cannot explain. THe words that clients say to me make my day, week even month. One family when they picked up brought a gift for my daughter.   She talked to my daughter about going to med school when they came for a visit. My daughter has known for years that med school was were she was going to go. When they picked up their pup they gave Karina a Medical dictionary. Karina loves it and reads it all the time. SO very kind of them. Another family picked up their dog and brough a friend who has one of my past pups, which they brought with them. THis pup was tiny, nick named Peanut. It was so good to see him and how good he is doing and how big he has gotten. His owners were so kind and had the nicest things to say to me.
Clients just have a way of making me realize this is were I belong. Creating these dogs, loving them and providing them ot families that will love them for life.  Thank you to all my past and present clients for being you. I appreciate your business, kind words and references.  You all rock.
Check out Rubys pups on the puppy page.
---
Planned Litters
Litters planned for 2015
Hope and Miles  SOLD
Harley and Stewart  SOLD
Lola and Raphael    2 available

Ruby and Raphael born May 17th
---
Check Back Again for More Labradoodle Puppy Announcements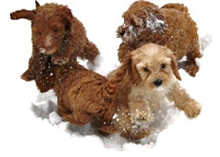 "There is no psychiatrist in the world like a puppy licking your face."
–Bern Williams
Read Testimonials »