Lyman, ME | (207) 499-2989
Labradoodle Puppies by Southern Maine Labradoodles
Welcome to Southern Maine Labradoodles in the beatiful state of Maine. We are a small breeder of Labradoodles here in New England.
We breed miniature and medium Australian/American Labradoodles.  Our two founding females are pure American and over the years we have added lots of Australian and American bloodlines. All of our breeders are family pets that live in our home with us or in their own guardian home.  This way they can retire with the family they grew up with.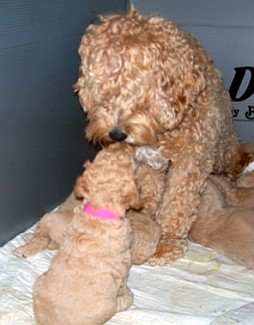 Our pups are socialized with adults and children of all ages starting at about 4 weeks. We have personally found Labradoodles to be amazing dogs. Labradoodles are loyal, playful, extremely smart and great members of the family. You can train them to do just about anything with the right training.
Labradoodles often have low to no shed coats and usually are allergy friendly. But be aware there are no guarantees that they won't shed. Our goal is to do our best to produce non shedding or the lowest shedding pups that we can. In the 13 years I have been doing this we have so far not produced any shedders.
My clients become part of my family and they are the reason I do what I do. Their followups with me always warm my heart and remind me how lucky I am to be able to do breed these amazing dogs. It is a passion for me that I cannot explain.
Picked Ella up yesterday. She hadn't eaten anything. She wouldn't eat for me either. She stayed next to me on the couch during the Superbowl.  This morning I took her in for her x-ray at 930 for puppy count. They say 7. She threw up 5 times this am. 10:30 I notice her baring down. No signs of labor at all, not even panting.
11 am apricor girl. Pink collar
11:25  apricot boy. Blue collar
11:35 apricot boy. Green collar
12:10. Red Girl. Purple collar
1:05  boy  black collar
Momma resting.
2:20 girl. Orange collar
2:25 girl  yellow collar
Now that she's done I will move Ruby into the puppy room with her pups. Clean the nursery, wash Ella up and move Ella and her babiesinto the nursery. Then feed her dinner. She did such an amazing job. Everyone is nursing.  
---
Planned Litters
Litters planned for   Winter 2017
Luca and  Raphael born 12/16/16  Sold

Ruby and Raphael  born 1/20/17    Sold

Ella and Ted  due February 8th
Lucy and Blake due March 28th
Pinto and Blake ?
---
Check Back Again for More Labradoodle Puppy Announcements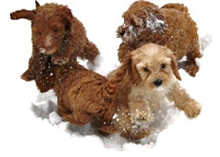 "There is no psychiatrist in the world like a puppy licking your face."
–Bern Williams
Read Testimonials »