Lyman, ME | (207) 499-2989
Labradoodle Puppies by Southern Maine Labradoodles
Welcome to Southern Maine Labradoodles in the beatiful state of Maine. We are a small breeder of Labradoodles here in New England.
We breed miniature and medium Australian/American Labradoodles.  Our two founding females are pure American and all of our studs have been Australian. All of our breeders are family pets that live in our home with us or in their ownguardian home.  This way they can retire with the family they grew up with.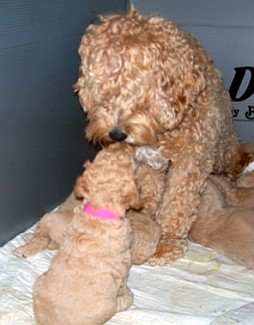 Our pups are socialized with adults and children of all ages starting at about 4 weeks. We have personally found Labradoodles to be amazing dogs. Labradoodles are loyal, playful, extremely smart and great members of the family. You can train them to do just about anything with the right training.
Labradoodles often have low to no shed coats and usually are allergy friendly. But be aware there are no guarantees that they won't shed. Our goal is to do our best to produce non shedding or the lowest shedding pups that we can. In the 10 years I have been doing this we have so far not produced any shedders.
To learn more, view this informational video about Labradoodles on AnimalPlanet.com
Ruby had her xray on Tuesday and she is having 8 or 9 pups. Last night she started panting today it has gotten really heavy. She is pacing and going out a lot. She is pacing and looking for a place to hide. Hoping she starts pushing soon. If no puppies by 8 am, we will go to the vets and have her checked.
11:50 red boy (blue collar)
12:00 red girl (pink collar)
Outside to pee
12:10 red boy (green collar)
Ok this a first. Whe ruby had the first pup she just walked away. Nothing. I cleanded him tied off cord and gave him to her. She took a couple minutes to be like ok I need to clean him. Second and third pups same thing. They were born and she didn't even seem to know they were there.  So guess I am the momma here. Rubyhas decided I should do the messy work and she will cuddle and feed them. Thats ok I got this Ruby.
1:05 red girl (purple collar)
1:12 red boy  (black collar)
1:30 red girl (orange collar)
Ruby is doing her job. LOL I think its because after puppy 5 she could bend. She is such a trooper. 
3:02 red girl (teal collar)
3:55 red boy (red collar)  this pup she had in the middle of the guest bedroom floor. She was asking to leave the room I said no no Ruby. So she walked towards th closet and squated. Out came red boy. What an adventure.
 8 is the final number. After a short nap she is happily taking care of her pups.
---
Planned Litters
Litters planned for 2015
Hope and Miles  SOLD
Harley and Stewart  SOLD
Lola and Raphael    2 available

Ruby and Raphael born May 17th
---
Check Back Again for More Labradoodle Puppy Announcements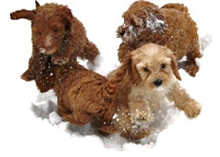 "There is no psychiatrist in the world like a puppy licking your face."
–Bern Williams
Read Testimonials »