Lyman, ME | (207) 499-2989
Labradoodle Puppies by Southern Maine Labradoodles
Welcome to Southern Maine Labradoodles in the beatiful state of Maine. We are a small breeder of Labradoodles here in New England.
We breed miniature and medium Australian/American Labradoodles.  Our two founding females are pure American and all of our studs have been Australian. All of our breeders are family pets that live in our home with us or in their ownguardian home.  This way they can retire with the family they grew up with.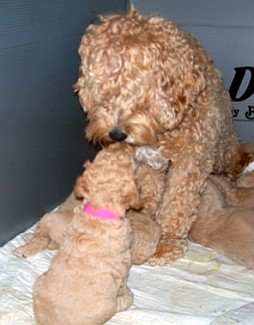 Our pups are socialized with adults and children of all ages starting at about 4 weeks. We have personally found Labradoodles to be amazing dogs. Labradoodles are loyal, playful, extremely smart and great members of the family. You can train them to do just about anything with the right training.
Labradoodles often have low to no shed coats and usually are allergy friendly. But be aware there are no guarantees that they won't shed. Our goal is to do our best to produce non shedding or the lowest shedding pups that we can. In the 10 years I have been doing this we have so far not produced any shedders.
To learn more, view this informational video about Labradoodles on AnimalPlanet.com
Yazmens babies are doing great. They are now a week old. Look at the color of them, I don't know if it shows up well on your computer, but no two are the same color. Love the light cream boy and the red girls color. Just because they stick out more.  I hope red girl becomes what I am looking for in a breeder.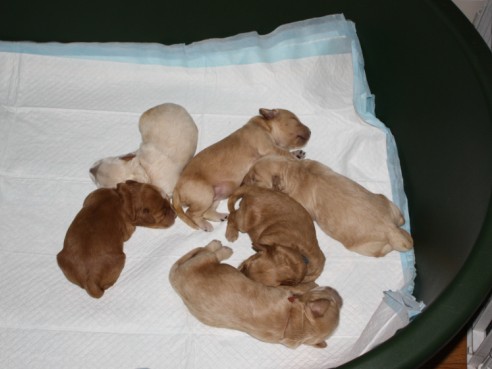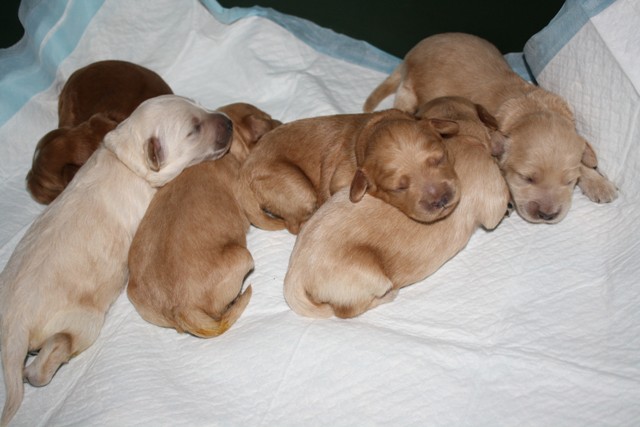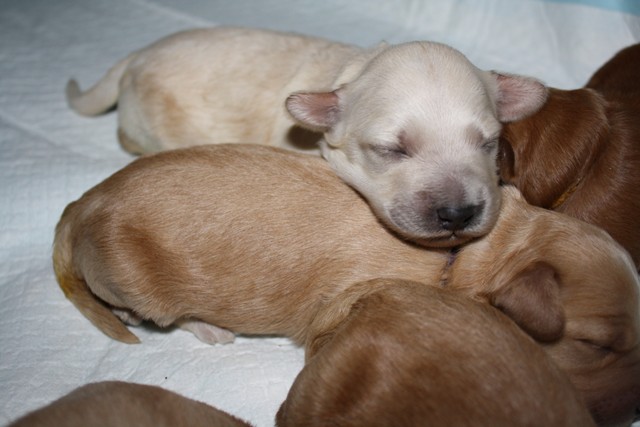 ---
Planned Litters
Litters planned Spring:
Lola and Raphael,  9  puppies born March 14, going home mid May (large Minis)
Yazmen and Ted born April 4th  - going home Mid June  (mediums25-30 lbs)
Maggie and Ted due end of April  -(Mediums 30-40 lbs)
Hope and Miles to be bred April 21st. Pups due June 20th. Ready to go home about August 15th. (Minis 20ish lbs)
---
Check Back Again for More Labradoodle Puppy Announcements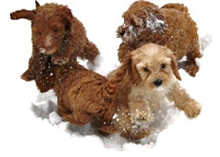 "There is no psychiatrist in the world like a puppy licking your face."
–Bern Williams
Read Testimonials »