Lyman, ME | (207) 499-2989
Labradoodle Puppies by Southern Maine Labradoodles
Welcome to Southern Maine Labradoodles in the beatiful state of Maine. We are a small breeder of Labradoodles here in New England.
We breed miniature and medium Australian/American Labradoodles.  Our two founding females are pure American and all of our studs have been Australian. All of our breeders are family pets that live in our home with us or in their ownguardian home.  This way they can retire with the family they grew up with.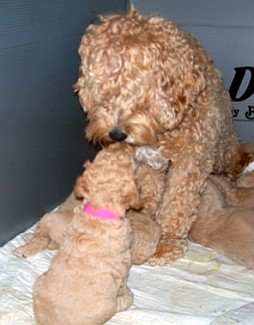 Our pups are socialized with adults and children of all ages starting at about 4 weeks. We have personally found Labradoodles to be amazing dogs. Labradoodles are loyal, playful, extremely smart and great members of the family. You can train them to do just about anything with the right training.
Labradoodles often have low to no shed coats and usually are allergy friendly. But be aware there are no guarantees that they won't shed. Our goal is to do our best to produce non shedding or the lowest shedding pups that we can. In the 10 years I have been doing this we have so far not produced any shedders.
To learn more, view this informational video about Labradoodles on AnimalPlanet.com
Every morning I wake up early, feed Momma Sookie, Momma Yazmen. Change puppy blankets and wipe any messes momma didn't take care of or caused. Then I sit next to Sookies puppies in the livingroom and drink my coffee. I love the sound of newborn puppies in the morning. Fills my soul with the wonder of new life and warms my heart.  Then I go and sit on the floor in the nursery and cuddle with Yazmens pup. Just a little attention, don't want to overwhelm them at this young age.
Yazmens litter is spoiled. My daughter visits them when she gets home from school then my son visits them when he gets home from work. He felt the need to call me last night while I was Christmas shopping to tell me I was killing Yaz's litter because their collars were to tight. LOL they are snug so feet don't get caught but not to tight.  But it sure is nice that Justin cares enough to check on them and call me. 
This is both Yazmen and Sookies last litters. I am sad.  Sookie gets to live here forever so that is good, but Yazmen lives in a guardian home and I am going to miss not seeing her. She is one perfect dog. I see my Bella in her (who passed away two years ago) and it makes me smile. I love to see that she lives on in her granddaughter.
Time to go feed mommas again.
---
Planned Litters
Yazmen and Ted   born 11/21/14
Sookie and Raphael   due 12/10/14
Litters planned for 2015
Ruby and Raphael
Lola and Miles
Ella and Ted
Harley and Stewart
Hope and Miles
---
Check Back Again for More Labradoodle Puppy Announcements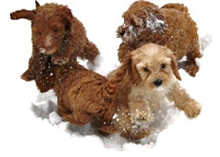 "There is no psychiatrist in the world like a puppy licking your face."
–Bern Williams
Read Testimonials »