Lyman, ME | (207) 499-2989
Busy Tuesday
Yesterday was a crazy day here at SML. 6 am up get kids off to school and work. Feed the 5 dogs. Change puppy bedding.  Pick up Kia in Saco, take her to Rochester for all of her health testing. Back home. Take Sookie to the groomers for her predelivery clipping.  Back home to feed Harley.  Return some calls, do a little house stuff. Meet with a family that is getting one of Harley's pups. Judy and Jerry are a wonderful couple and will be perfect for one of our pups. Pick up Sookie from groomers. She looks so cute. Bring her home. Get Karina at the bus stop and head back to Rochester. It is now 6 pm when we get to Rochester to get Kia.  Testing done, knees, elbows, hips, thyroid and heart.  Take Kia home, then to Raphaels to try and get a good picture of him for my website.  Back home by 9, feed Harley, change puppy bedding and try to get some more done around the house.  This is just some of what my day entailed. 
Today was a morning of home and business stuff and then 6 hours working at the accounting office.  Got home at 6:30. Hubby made dinner for the family and it was very good. I love when he cooks when I have a hard day at the office.  Life is crazy busy for sure.
Sookies xray is Friday. Can't wait.
Viewer Comments
Upcoming Litters
Litters planned for 2019
Lucy and Gunner born 4/1/19
Abby and Raphael due 4/23/19
Luca and Gunner due June 3rd
Sammi and Gunner June 13th
Poppi Summer 2019
---
Check Back Again for More Labradoodle Puppy Announcements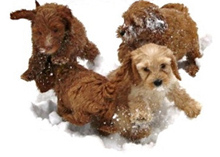 "There is no psychiatrist in the world like a puppy licking your face."
–Bern Williams
Read Testimonials »