Lyman, ME | (207) 499-2989
Puppies are on their way
Harley moved in on Wendsday to have her pups. Her temp dropped to 99 on Friday. It needs to be 98 or lower to indicate pups withing 24 hours. She has been acting normal, eating and just being perfect little Harley all weekend. This morning I get up get ready for work feed the dogs and no Harley. She was lying on the couch looking forlorn.  So I took her temp and it was 97.8 and she had a discharge. Great pups are coming and I have to go to work. Really,. Thankfully my hubby is home to keep and eye on her. But trust me is anything happens he is calling me so fast. He doesn't have a clue how to birth no baby. LOL
Tonight Harley was panting pacing and doing the whole cleansing. About 8 her water broke, 9 she started baring down.
10:05 brown girl with white rear toes. Maybe  a little white on the chin and chest. 8.6 oz
ok here it is 11:15 and no more puppies. She isnt even acting like she has anymore.  Sometime later she has been pushing for a few minutes and Jerry (her guardian dad notices a bulge)  the is just a foot presenting. With every push we see the foot and then it is gone. I reach inside and try to grab the pup and can't. After 30 minutes I called the ER vet and tell them we may be in.  Harley pushes again and three quarters of the leg and the tail are present. I rip off my gloves, grab a towel and firmly but gentley grab and pull. It was a site to be seen.  Finally after the three of us working together the next pup was born.
12:09  brown boy  10.8 oz
Jerry delivers the next pup that is also breach but came alot faster and easier.
 12:15 Apricot girl   10.6 oz
12:43 chocolate girl 9.2 oz
12:58   Black boy  10.4 oz
2:20 she has been resting and calm sence the last pup. So we gave her fresh bedding, a snack and all went to nap for a bit.
5:30 got up went in to bring Harley food and check pups. First thing I noticed is there was now a cream colored pup. So 6 total. Last pup cream boy. Hoping to get another nap in this morning.
Viewer Comments
Upcoming Litters
Litters planned for 2019
Lucy and Gunner born 4/1/19
Abby and Raphael due 4/23/19
Luca and Gunner due June 3rd
Sammi and Gunner June 13th
Poppi Summer 2019
---
Check Back Again for More Labradoodle Puppy Announcements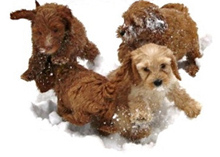 "There is no psychiatrist in the world like a puppy licking your face."
–Bern Williams
Read Testimonials »