Lyman, ME | (207) 499-2989
puppies coming now
THis morning Sookie got sick first thing. Then she just lied around and didn't seem to be in labor at all. I took her temp and it was 98.5, which means pups will come soon.  She then started the shaking, almost like they are cold. I put her in her whelping room and she kept going in and out fo the whelping box.  Around 1 pm she passed what looked like a small afterbirth. Called the vet (this was a new one to me) and he said a pup should come within the hour. I took my daughter to her hair appointment down the road and left my 16 year old, who is a firefighter, in charge. He texted me 15 minutes later and said get home now. I asked why and he said  " she is freaking out and so am I."    LOL
    Then he sends me a text,"um their is a puppy and I don't know what to do."
I said is the puppy out of the sack and breathing.
"Yes"
Ok then Sookie is doing what she is suppose to.
"Get home".
Ok on my way.  I call him and he is freaking out because Sookie is carrying the puppy by its head with her teeth. Oh what a good laugh I got. My poor son.
2 pm red girl (pink collar)
2:25 second pup red girl (purple collar)
2:50  red boy  (blue collar)
3:12 red girl (orange collar)
3:59  boy (yellow collar)
5:10  girl (red collar)
5:35  girl (green collar)
All pups are doing good. Now off to make momma some hamburg and rice.  Good job Sookie.
Viewer Comments
Upcoming Litters
Litters planned for 2019
Lucy and Gunner born 4/1/19
Abby and Raphael due 4/23/19
Luca and Gunner due June 3rd
Sammi and Gunner June 13th
Poppi Summer 2019
---
Check Back Again for More Labradoodle Puppy Announcements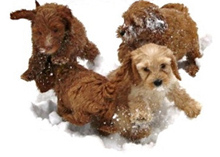 "There is no psychiatrist in the world like a puppy licking your face."
–Bern Williams
Read Testimonials »