Lyman, ME | (207) 499-2989
Hope went in for testing today
Today was another crazy day. Picked up Hope (SML's Hopes and Dreams) for her health testing this morning. Drove her to Rochester. Left her there for the morning. Went back to pick her up at 2:30. Dr L said her hips are some of the best he has seen.  I cannot wait to get her results back and get her up on the website. He also commented on what a lovely dog she is. He really likes her. Hope is dainty and just a complete love. With Harley as a mom she just has to be an amazing dog. She clearly has the best of her mom and dad. I wish you could see Hope run she looks like a Gazell, so beautiful and graceful.
When I brought Hope home, (she lives with Harley) poor Harley thought she was leaving with me and coming home to see her pups. I felt so bad having to tell her no.  Harley was so happy to see me. I love how all of my dogs seem to have a wonderful bond with me and with my daughter Karina.   
The puppies are growing and getting more active every day. Starting to wean Sookie so she can put some weight back on. Nursing 7 pups for 5 weeks has been alot of work.  Sookie would be happy to continue to be their sole sorse of food, but I need to relieve her of that. Sookie loves being a mom completely.
Viewer Comments
Upcoming Litters
Litters planned for 2019
Lucy and Gunner born 4/1/19
Abby and Raphael due 4/23/19
Luca and Gunner due June 3rd
Sammi and Gunner June 13th
Poppi Summer 2019
---
Check Back Again for More Labradoodle Puppy Announcements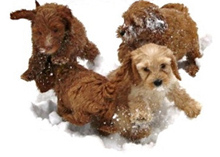 "There is no psychiatrist in the world like a puppy licking your face."
–Bern Williams
Read Testimonials »