Lyman, ME | (207) 499-2989
Looking for a guardian home
Ella is our newest addition to our family. We are starting our search for the perfect guardian home for this wonderful girl. She has been here with us for a week and we are all in love with her. She is funny, cuddley, playful, not afraid of anything and a love bug. She nestles right in to your neck when you hold her.  Plays ball with my daughter. Is not affraid of noise and commotion.
Ella will be about 30-35 lbs when full grown. So far her coat is wavy, soft fleece. If you are interested in her and want to here what is involved in being a guardian home please give me a call. A few things I want to let you know ahead of time.  Ella is12 weeks old and 80 percent house trained. She sleeps from 10:00pm to as late as 9am. Yes we trained her well. LOL.. Guardian dogs live with their families and I have breeding rights for 3 litters after all her testing is done. Also you have to be less then an hour from Kennebunk or Saco Maine.
Here is a picture of sweet Ella. There are two more on the the our dogs page.
Viewer Comments
Upcoming Litters
Litters planned for 2019
Lucy and Gunner born 4/1/19
Abby and Raphael due 4/23/19
Luca and Gunner due June 3rd
Sammi and Gunner June 13th
Poppi Summer 2019
---
Check Back Again for More Labradoodle Puppy Announcements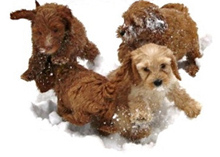 "There is no psychiatrist in the world like a puppy licking your face."
–Bern Williams
Read Testimonials »