Lyman, ME | (207) 499-2989
3 week puppy pictures posted
PIctures of Maggies pups are on the puppy page for viewing.
Grace and Miles have been successfully bred. Puppy due in 9 weeks.
Here is a picture taken after last nights bath. I was soaked from the waist up and Karina from the waist down. She kept them nice an warm.
Viewer Comments
Upcoming Litters
Litters planned for 2019
Lucy and Gunner born 4/1/19
Abby and Raphael due 4/23/19
Luca and Gunner due June 3rd
Sammi and Gunner June 13th
Poppi Summer 2019
---
Check Back Again for More Labradoodle Puppy Announcements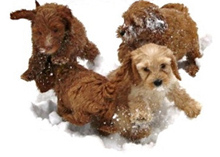 "There is no psychiatrist in the world like a puppy licking your face."
–Bern Williams
Read Testimonials »