Lyman, ME | (207) 499-2989
Busy Tuesday
I know I told some of you that I would post new pictures of the babies today. Today was suppose to be my first available day in the past week. But it ended up that Tootsie had to be bred today. We did an AI (artificial Insemination) on Friday and also did a blood test and the results came back late Saturday that she would be ready today.  So I left at 7 am to pick up Tootsie 1 1/2 hours away. (yes that is 3 hours round trip). Brought her to my house then left to get Teddy. Brought him back and tried to let nature take its course. Tootsie would have non of it so off to the vets again for an AI.  After the AI we took Teddy home and then Tootsie. Karina and I just got home after a full day on the road.
I promise I will have pictures posted by Thursday, hopefully late tomorrow.  THanks for your patience.
Graces xray on Monday showed 6 puppies.  She will have them any day. So excited for her last litter to be born. After this she gets to retire and live with Sue, Dan and Moxie and just enjoy life.
Viewer Comments
Upcoming Litters
Litters planned for 2019
---
Check Back Again for More Labradoodle Puppy Announcements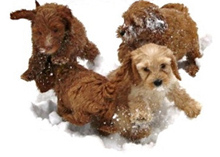 "There is no psychiatrist in the world like a puppy licking your face."
–Bern Williams
Read Testimonials »