Lyman, ME | (207) 499-2989
Power outage
Due to the horrible storm that hit Maine, we have been without power most of the day and night, pictures were not posted. It just came back on at 10:15 pm.  
A tree next to our house was struck by lightening and it knocked power out .  This has been one of the most intense storm systems I have seen in a long time. Beautiful but dangerous.
Grace is here and she is huge. SHe is resting and we are hoping puppies will come tomorrow afternoon or Saturday.
Viewer Comments
Upcoming Litters
Litters planned for 2019
Lucy and Gunner born 4/1/19
Abby and Raphael due 4/23/19
Luca and Gunner due June 3rd
Sammi and Gunner June 13th
Poppi Summer 2019
---
Check Back Again for More Labradoodle Puppy Announcements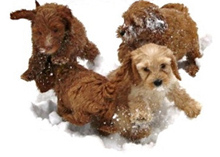 "There is no psychiatrist in the world like a puppy licking your face."
–Bern Williams
Read Testimonials »