Lyman, ME | (207) 499-2989
Sookeis pups are almost 8 weeks
OH my gosh, I just realized Sookies pups will be 8 weeks on Tuesday. That means they can go home as soon as the 13th.  Oh this has flown by. I feel like they should only be 5 weeks old.
They will go in on THe 12th for the complete vet check. Cannot wait for their families to be able to take them  home and love them. These pups have lots of loved to give.
Grace's babies are almost two weeks and just the chubbiest little darlings. I will post new pictures tomorrow.
Viewer Comments
Upcoming Litters
Litters planned for 2019
---
Check Back Again for More Labradoodle Puppy Announcements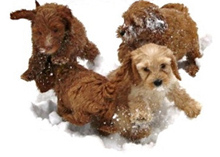 "There is no psychiatrist in the world like a puppy licking your face."
–Bern Williams
Read Testimonials »