Lyman, ME | (207) 499-2989
Kia's puppies are coming
Kia was in light labor all day. I left at 2:30 to go to my nephews hockey game. Jacob stayed home for Momma watch.  I got home at 6 and Kia met me at the door whinning and so excited. She started panting heavely within 10 minutes.  She was frantic looking for a place to whelp, MIles crate, behind couch, next to rocker, whelping box. She panted and whinned alot and loudly. At 7:20 she started pushing. First pup was born on the couch of course. Seems to be the new normal. Miles just sat there and watched. So cute.
8:10  apricot boy
8:25 apricot girl
pause time so some vanilla icecream for Kia
10:02 black girl with white markings
10:16  apricot girl (purple collar)
Now to clean up her bed and give her some food. Then some rest for both of us. Love when they finish delivering before 11.
Viewer Comments
Upcoming Litters
Litters planned for 2019
Lucy and Gunner born 4/1/19
Abby and Raphael due 4/23/19
Luca and Gunner due June 3rd
Sammi and Gunner June 13th
Poppi Summer 2019
---
Check Back Again for More Labradoodle Puppy Announcements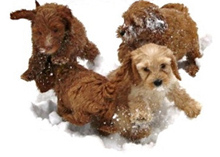 "There is no psychiatrist in the world like a puppy licking your face."
–Bern Williams
Read Testimonials »