Lyman, ME | (207) 499-2989
Puppies in New England
It is so cold outside. I am thankful for my heat more then ever. Thank god we did not lose power like so many people in the country during the ice and the frigid cold weather.   All puppies are doing great. Finally able to play a little with Sophia's pups. So much fun now.  It was so cute, I carried Harleys black girl into Sophia's nursery during the photo shoot and Sophies red girl barked at us and little black girl barked back. It was the cutest thing ever. Harleys family was here visting and got a kick out of it too.
Go check out the puppies page, new pictures are posted. Loving life right now. 
Monday I will be breeding Lola to Raphael for a litter of mini apricots and reds.
Kia is due on the 20th. She will have mini pups of various colors.(red, apricot, black)
Stay warm everyone. Looks like it will warm up a little soon.
Viewer Comments
Upcoming Litters
Litters planned for 2019
---
Check Back Again for More Labradoodle Puppy Announcements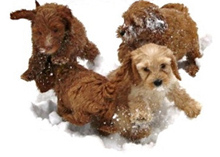 "There is no psychiatrist in the world like a puppy licking your face."
–Bern Williams
Read Testimonials »