Lyman, ME | (207) 499-2989
puppies arriving
After a restless morning, pups are finally coming.  Lola is doing good so far. First two came so fast that they are still attached.  Made sure both were ok now to wait for the afterbirths to follow.
2:11 pup dark apricot female (pink collar)
2:13 pup  dark apricot /red male (blue collar)
3:12 red boy (tan collar)
3:14 light apricot  boy  (red collar)
3:24 apricot girl (yellow collar) 
3:55 red boy ( green collar)
5:20 red boy (orange collar)
5:45 boy (white collar)
6:01 boy   (blue/white collar)
Lola is done. She is amazing and doing great. I am always amazed at how well a dog takes to motherhood. 
I 
Ok I think sis done now. Everytime I  think it is the last one  e I
Viewer Comments
Upcoming Litters
Litters planned for 2019
Lucy and Gunner born 4/1/19
Abby and Raphael due 4/23/19
Luca and Gunner due June 3rd
Sammi and Gunner June 13th
Poppi Summer 2019
---
Check Back Again for More Labradoodle Puppy Announcements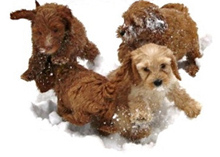 "There is no psychiatrist in the world like a puppy licking your face."
–Bern Williams
Read Testimonials »