Lyman, ME | (207) 499-2989
Hope is delivering
Here it is 4:25 am and she just had her first two. We haven't slept at all tonight, or this morning.
4:10 brown boy, who looks huge.
4:15 black boy who looks so tiny. literally half of the first pups size.
4:35 black and white parti boy. Big and beautiful
 6:12 black and white parti boy this one has a lot more black
6:35 black girl w/ white mouth, chin and chest
6:52 little brown girl. May be black. I am really tired at this point.
7:20 brown and white parti
The colors may change once they dry and I get some sleep.  Hope did a wonderful job. She is a natural like her momma Harley. Her human mom Michelle even got to come and watch a couple being born and spend some time with her girl.I
Viewer Comments
Upcoming Litters
Litters planned for 2019
Lucy and Gunner born 4/1/19
Abby and Raphael due 4/23/19
Luca and Gunner due June 3rd
Sammi and Gunner June 13th
Poppi Summer 2019
---
Check Back Again for More Labradoodle Puppy Announcements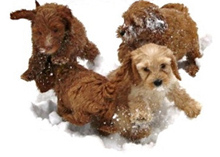 "There is no psychiatrist in the world like a puppy licking your face."
–Bern Williams
Read Testimonials »