Lyman, ME | (207) 499-2989
Puppies
My gosh enough snow already. I am counting the days until sun shine. THe puppies have only been out a  couple times to play in the snow. Now it is too soft and deep for them to play in. Hopefully I can get them out to play on the back porch tomorrow. I love them to get out and get fresh air.
All of Yazmens pups are sold and the boys are all gone home. Sookies pups are doing great. I will post their latest pictures tomorrow. THey are so darn cute. Look so much like their daddy Raphael. Blue boys is still available. If you would like more information on him give me a call. I will return your call as soon as I can. We have lots of vet visits and picking up adult dogs this week so will be on the road alot. BUt I will call you back promise. LOL
Watch for the new pictures tomorrow.
Stay safe and warm.
Viewer Comments
Upcoming Litters
Litters planned for 2019
Lucy and Gunner born 4/1/19
Abby and Raphael due 4/23/19
Luca and Gunner due June 3rd
Sammi and Gunner June 13th
Poppi Summer 2019
---
Check Back Again for More Labradoodle Puppy Announcements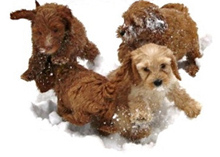 "There is no psychiatrist in the world like a puppy licking your face."
–Bern Williams
Read Testimonials »