Lyman, ME | (207) 499-2989
Hope
Hopes xray showed 5 puppies. She moved in and weare waiting for labor to start.  
If I haven't responded to anyone receintly, I need to appoligize. I have been really sick andafter a trip to the ER I am on lots of meds andslowly on the mend.
I will post as soon as Hopes labor starts. Also will post Friday after Harleys xray for puppy count. 
Viewer Comments
Upcoming Litters
Litters planned for 2019
Lucy and Gunner born 4/1/19
Abby and Raphael due 4/23/19
Luca and Gunner due June 3rd
Sammi and Gunner June 13th
Poppi Summer 2019
---
Check Back Again for More Labradoodle Puppy Announcements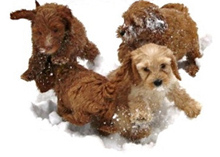 "There is no psychiatrist in the world like a puppy licking your face."
–Bern Williams
Read Testimonials »