Lyman, ME | (207) 499-2989
Ruby
Ruby and Raphael were successfully bred today. In about 30 days we will do a sonogram to confirm pregnancy.
Red and carmel babies should be arriving about April 18th.
My little Luca that I kept from Yazmen and Teds litter is doing great. She is the sweetest little girl ever. Never any sign of aggression or irratation from her at all. She rolls on her back always and loves to hug.  I hope all her siblings are as wonderful as she is.
Viewer Comments
Upcoming Litters
Litters planned for 2019
---
Check Back Again for More Labradoodle Puppy Announcements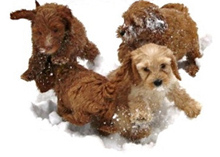 "There is no psychiatrist in the world like a puppy licking your face."
–Bern Williams
Read Testimonials »