Lyman, ME | (207) 499-2989
17 puppies
Life is busy and beautiful here.  My day starts with letting out the 3 moms, changing their bedding, cleaning up any messes moms may have made at night, filling their food and water dishes. I have two moms in seperate bedrooms in the house and one mom in the laundry room. Let moms back in . Let out my 5 dogs, feed my dogs. Wash bedding from moms whelping boxes and then go about my day.
Pictures of pups have been posted on the "puppy page". I will do individual shots on Monday and get them posted.
Right now moms do all the work when it comes to puppy care. I just take care of them moms. They work hard at taking care of their babies so they get spoiled. Lots of yummy food and love.
Viewer Comments
Upcoming Litters
Litters planned for 2019
---
Check Back Again for More Labradoodle Puppy Announcements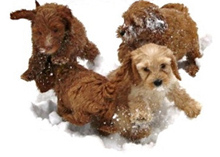 "There is no psychiatrist in the world like a puppy licking your face."
–Bern Williams
Read Testimonials »