Lyman, ME | (207) 499-2989
Sophia is delivering
Sophia moved in on Monday, had her xray on Tuesday. The xray showed 8 babies. Last night she started panting and digging. Today she seemed better. She was quiet, but atea little and kept herself in the corner ona bed with a stuffed animal. Tonight she never made a sound, I was sitting in the livingroom with her and all of a sudden there was a pup and she got to work doing her job. So I brought the whelping box int the lLRand moved her into it and slid her in the corner.
11:18 black girl  - pink collar
11:54 apricot boy - blue collar
12:05 apricot girl - purple collar
She is  doing great. The pups are calm and all nursing.
12:12 apricot boy - black collar
12:20 cream boy - orange collar
1:17 black boy - tan collar
1:32 cream girl - teal collar
1:51 black girl - white collar
There may be one more so I will try and feed her, wait an hour before I finish cleaning.
Viewer Comments
Upcoming Litters
Litters planned for 2019
---
Check Back Again for More Labradoodle Puppy Announcements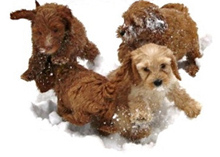 "There is no psychiatrist in the world like a puppy licking your face."
–Bern Williams
Read Testimonials »