Lyman, ME | (207) 499-2989
Puppynlove
Rubys 10 puppies are doing great. She is taking such good care of them. I am so proud of the amazing mother she is. She bounced back in record speed.
All of Sophias pups have gone home except one. Heis a surprise so doesnt have a name. Last night I slept on the couch with him next to me in his crate. He was wonderful. 4 am Ruby decided she really needed to go out. She lets me know with this piercing yelp. It actually sounds like a smoke alarm beeping when it needs batteries. So I got up let her and the pup and Sierra out. Rubyand Buddy (what I have been calling the pup) came in within 5 min. I feed Ruby and put her back with her pups.  But miss Sierra in her old age takes forever outside. She took until 5:05 before she was ready to come in. So I lied on the couch with Buddy, what a cuddler. He curled up with his head resting over my neck and tried repeatedly to chew my neclace.  Love this pup.
For those of you who were waiting to hearif Daisy is pregnant, I did not take her in yesterday, sorry. I was sick and could not have been on the road dor 4 hours traveling her back and forth.mso her sonogram will be this coming Monday instead. Thank you for your patience.
Hope everyoneis ready for the holidays. I havent wrapped a thing yet. Looks like a busy 3 days ahead for me
Merry Christmas
Viewer Comments
Upcoming Litters
Litters planned for 2019
Lucy and Gunner born 4/1/19
Abby and Raphael due 4/23/19
Luca and Gunner due June 3rd
Sammi and Gunner June 13th
Poppi Summer 2019
---
Check Back Again for More Labradoodle Puppy Announcements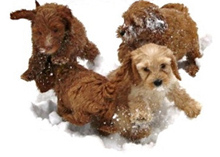 "There is no psychiatrist in the world like a puppy licking your face."
–Bern Williams
Read Testimonials »