Lyman, ME | (207) 499-2989
Ella is here
Ella moved in yesterday to await the arrival of ther puppies. She saw the vet yesterday and they saw 7 maybe 8 babies.  So now we play the waiting game. She seems to be in stage one of labor. Resting, cranky and not eating.   Keep an eye here for updates.
Also I want to appoligize to anyone that has emailed that I have not responded to. I have been on the road all week picking up and dropping off dogs for breedings. This weekend is my daughters end of year Friends and Family for cheer. So I am out straight preparing for that. I will try and email everyone Monday.
Hoping Ella waits until Monday.
Viewer Comments
Upcoming Litters
Litters planned for 2019
Lucy and Gunner born 4/1/19
Abby and Raphael due 4/23/19
Luca and Gunner due June 3rd
Sammi and Gunner June 13th
Poppi Summer 2019
---
Check Back Again for More Labradoodle Puppy Announcements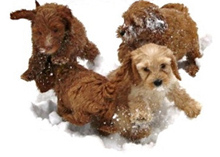 "There is no psychiatrist in the world like a puppy licking your face."
–Bern Williams
Read Testimonials »