Lyman, ME | (207) 499-2989
Sophia had her pups
Tuesday morning after a long night of pacing and panting Sophia started having pups. I had no power due to an accident so I could not blog. SO here is what happened.
6:45 am Sophia hid under the small back door by the puppy room. We found her thank god and brought her in.
9:45 Sophias water broke on the livingroom floor. Quickly brought her into the delivery room. She settled into the whelping box and just lied there panting.
10:25 she started baring down.
11:40 Apricot boy  - Blue collar
12:04 Black boy    - green collar
12:25  Cream Boy  - Yellow collar
Ok at this point I was like another litter of all boys. Come on Sophia I want to keep a girl from this litter. Sophia was so calm and didn't barley move thru this whole labor.
12:55  cream Girl  -  Pink collar
1:25    Black girl   -  purple collar
1:40  Apricot girl  - no collar
Notice she had 3 boys then reversed colors and had 3 girls. What a good girl. This litter will at least be very easy to tell apart. They are all doing great and Sophia is an amazing mom.
Viewer Comments
Upcoming Litters
Litters planned for 2019
Lucy and Gunner born 4/1/19
Abby and Raphael due 4/23/19
Luca and Gunner due June 3rd
Sammi and Gunner June 13th
Poppi Summer 2019
---
Check Back Again for More Labradoodle Puppy Announcements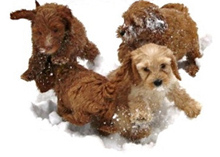 "There is no psychiatrist in the world like a puppy licking your face."
–Bern Williams
Read Testimonials »