Lyman, ME | (207) 499-2989
Summer time
This Summer has been very busy here at SML. Luca, Sami and Poppi all had pups. Thankfully they only had 4 each so it wasn't to crazy. Luca's pups will be leaving next weekend and Sami's the weekend after. My days are filed with cleaning, feeding and just tending to 12 puppies and currently 9 adults. I took in 2 older doodles for a client that had an emergency. So my house is super loud when the UPS man pulls up or anyone comes home. Thankfully they only bark for a couple minutes and then just dance around with excitement.
Poppi's pups will be here another month then It will be silence for at least 3 months. I enjoy the puppies so much and know I will miss them when they are gone. But I am looking forward to a few months to focus on my house, family and getting some crafting done. BUt I know by December I will be itching for newborns again.
All current puppies are sold. Taking applications for Winter and Spring litters.
Viewer Comments
Upcoming Litters
Litters planned for 2019 - 2020
Sammi & Gunner born 6/13/192 SOLD
Poppi & Gunner born July 15th SOLD
Piper & Ted Fall 2019
Moxie & Winter/Spring 2020
Abby & Winter/ Spring 2020
---
Check Back Again for More Labradoodle Puppy Announcements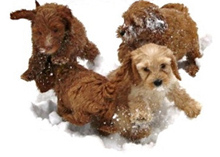 "There is no psychiatrist in the world like a puppy licking your face."
–Bern Williams
Read Testimonials »