Lyman, ME | (207) 499-2989
Abby is delivering
No Puppies available until the Fall
Abby is at her guardian moms home delivering her puppies. Abby has been resting in her whelping box for the past 24 hours. She would rest and then get up and want to play ball with her mom. Temp dropped yesterday at 11 am, which means pups within 24 hours. This morning at 10:30 she climbed in the whelping box and chilled out. Around 11 she started contractions and a little shaking.
11:45 water broke
12:02 its a girl (purple collar)
12:19 a chunky boy (green collar)
12:37 boy (red collar)
1:12 boy (Yellow collar)
everyone is doing great.
1:31 final pup girl (pink collar)
Happy Birthday babies
Viewer Comments
Upcoming Litters
Litters planned for 2020
Abby & Raphael born March 23rd SOLD
Moxie & Gunner April 13th SOLD
Sami & Gunner April 26th SOLd
Piper & Groot Fall 2020
Maggie & Ari Fall 2020
Poppi & Gunner Winter 2020 -2021
Nala & Groot Fall 2020 to Winter 2021
---
Check Back Again for More Labradoodle Puppy Announcements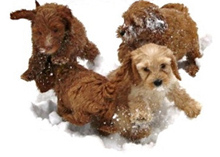 "There is no psychiatrist in the world like a puppy licking your face."
–Bern Williams
Read Testimonials »