Lyman, ME | (207) 499-2989
Sami had her pups
I know I am a little late posting but Sami had her pups on 4/23. She had a quick and easy delivery.
10:25 PM Boy - blue collar nursed right away while still attached to momma.
11:05 Boy - red collar he also looked for food and stayed persistant until he found it.
11:25 Boy - Yellow collar was a little more quiet when born and took a minute to nurse.
12:15 Boy - green collar I was in shock she had 4 boys because she had 4 girls last time so didn't really notice how quickly he nursed.
Cleaned everyone up, fed momma and settled in for some sleep. Mom and puppies are doing great.
NEW PICTURES OF ALL 3 LITTERS UP ON PUPPY PAGE 4/30/20
Viewer Comments
Upcoming Litters
Litters planned for 2020
Piper & Groot Fall 2020
Maggie & Ari Fall 2020
Poppi & Gunner Winter 2020 -2021
Nala & Groot Fall 2020 to Winter 2021
---
Check Back Again for More Labradoodle Puppy Announcements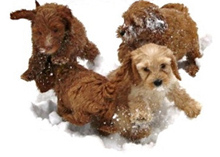 "There is no psychiatrist in the world like a puppy licking your face."
–Bern Williams
Read Testimonials »