Lyman, ME | (207) 499-2989
Lots of Puppies in Lyman Maine
Well life sure has gotten busy this past week. As you know if you follow our blog, Shirley had nine pups last week.  We have 6 pups that are 7 weeks, 6 pups that are two weeks and 9 pups that are a week old. 21 pups and 6 adults and a puppy moving in for the weekend while her family goes away.
Life is busy from the moment I roll out of bed at 6 until I put my head down at 11 to 11:30. Lots of blanket changine, feeding, mess cleaning and petting of dogs. 
We do have availability. Due to litter shifts and job changes we now have two pups from Yaz's litter available. They will be ready to go as soon as next weekend.  We have two from Sookie available, redy to go in 6 to 7 weeks and 4 from Shirley's ready to go in 7 - 8 weeks.  (207)499-2989
Give me a call and I will tell you all about the parents and the puppies.  This weekend I will be spending alot of time with Yaz's  pups to really study their personalities and will put updates on here.  Lots of notes and observations to be done.
Viewer Comments
Upcoming Litters
Litters planned for 2019
Lucy and Gunner born 4/1/19
Abby and Raphael due 4/23/19
Luca and Gunner due June 3rd
Sammi and Gunner June 13th
Poppi Summer 2019
---
Check Back Again for More Labradoodle Puppy Announcements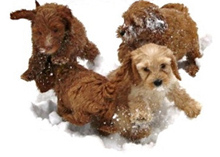 "There is no psychiatrist in the world like a puppy licking your face."
–Bern Williams
Read Testimonials »