Lyman, ME | (207) 499-2989
Pictures are posted
Pictures of Tootsie pups and Shirley pups are up on the "puppy" page. Check them out.  Shirley went back home to her guardian family today. I am sure going to miss that little cuddle muffin. She is such a sweetheart.  She greeted me every morning with so much love and we cuddled everynight, just her and I on the couch.
Sookie and Shirley both had their post puppy spa day today. They are really short but so much more comfortable and clean.
Sookies pups start leaving tomorrow. Bitter sweet for sure.
Viewer Comments
Upcoming Litters
Litters planned for 2019
Lucy and Gunner born 4/1/19
Abby and Raphael due 4/23/19
Luca and Gunner due June 3rd
Sammi and Gunner June 13th
Poppi Summer 2019
---
Check Back Again for More Labradoodle Puppy Announcements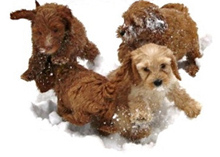 "There is no psychiatrist in the world like a puppy licking your face."
–Bern Williams
Read Testimonials »