Lyman, ME | (207) 499-2989
pictures of pups coming
I finally am downloading photos of pups. I tried yesterday and the site would not work. SO I am downloading them today and will
 pictures are posted:     Go go the puppy page to see pups.
Sorry it took so long. I am not good at this downloading and posting pictures game. But I am learning.
Pictures to be posted today. I tried to download them yesterday and the site did not work. So am working on it now. I have a client coming for a visit and will post them as soon as I can. Thank you for your patience.  Check back after 3 today.
Viewer Comments
Upcoming Litters
Litters planned for 2019
Lucy and Gunner born 4/1/19
Abby and Raphael due 4/23/19
Luca and Gunner due June 3rd
Sammi and Gunner June 13th
Poppi Summer 2019
---
Check Back Again for More Labradoodle Puppy Announcements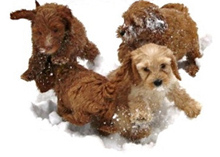 "There is no psychiatrist in the world like a puppy licking your face."
–Bern Williams
Read Testimonials »