Lyman, ME | (207) 499-2989
Girls trip to the vets
The 5 girls went in for the vet checks and 4 were spayed yesterday. They all did amazing. Here are their weights.
Yaz purple girl 7 lbs      Yaz Pink girl 4.4 lbs
Grace brown girl  4.9 lbs      Grace Cream girl  5.8 lbs and Grace -Izzy 5.2 lbs
Surgeries went great and everyone is recovering nicely. I brought them home put them on a comfy bed, fed and watered them and they were down for the night. THis am they have eaten and are taking it easy.
Dropped the boys off for their neutering at 8 am. Will let you know how it goes.
Viewer Comments
Upcoming Litters
Litters planned for 2019
Lucy and Gunner born 4/1/19
Abby and Raphael due 4/23/19
Luca and Gunner due June 3rd
Sammi and Gunner June 13th
Poppi Summer 2019
---
Check Back Again for More Labradoodle Puppy Announcements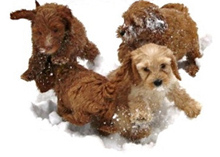 "There is no psychiatrist in the world like a puppy licking your face."
–Bern Williams
Read Testimonials »