Lyman, ME | (207) 499-2989
Good news
My computer tech called last night and my computer is fixed. The power supply was bad. I am so happy. I will head to the office for a while today and Al will bring my computer to me.
Misty is now living back with her guardian family. She comes here once a day to nurse and be a mom for a while. She really loves to come back and visit with them. It is funny to watch her leap out of the truck and run full speed up the walkway, thru the mud room, past the living room, down the hall and into the nursery. She does not stop to say hello to anyone, just gets to the job at hand. She lets them nurse and then she plays with them for a few minutes and then she is ready to go back home with her mom and dad.   Love the whole process.
Sookies tummy is getting big. I origanally felt she was having 8 now I feel more like 5. We will find out for sure on Monday morning.
Viewer Comments
Upcoming Litters
Litters planned for 2019
---
Check Back Again for More Labradoodle Puppy Announcements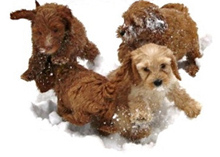 "There is no psychiatrist in the world like a puppy licking your face."
–Bern Williams
Read Testimonials »