Lyman, ME | (207) 499-2989
Puppies are doing great
Sorry I didn't post this weekend. We lost internet early yesterday and just got it back. Our phone, cable and internet were down.
Misty's pups all got baths last night. Today they went to the vets for a checkup and surgery. Finn and Caly were both spayed. Black boy was neutered. Sable girl and Baxter came home with me.   Pups are healing nicely. They came home after surgery had a little dinner and went to sleep. Poor Baxter and Sable have no idea why they can't be in the pen with the others and play. It is very sad to see them standing there looking and whinning.
Sookies pups are still the same. They really don't change in the first couple weeks. They are active and eating well. Sookie is doing an amazing job as a mom.
I will get pictures up Soon.
Viewer Comments
Upcoming Litters
Litters planned for 2019
---
Check Back Again for More Labradoodle Puppy Announcements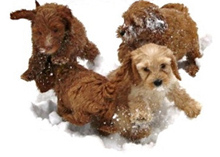 "There is no psychiatrist in the world like a puppy licking your face."
–Bern Williams
Read Testimonials »