Lyman, ME | (207) 499-2989
This early season storm has grounded me
This past weekend I as you know I lost power and internet. So now I had to hookup a new HP printer because my old faithful (canon) one died after 5 plus years.  So this AM armed with a large cup of coffee I shut myself in my office to hook up the printer and proceed to get my hundreds of pages of paperwork done. This is at 8:30. I worked on this printer set up for 3 1/2 hours. The printer would print color but not black. To say I was frustrated is an understatement. So at 12:15 I gave up and went out and bought another new printer. This time an Epson. Came home at 2 after running errands while in town and set it up with ease. Here it is almost 4:30 and I have finally printed off my first 5 pages.  Looks like a long night in the office for me. 
Now for what you are really here for. Misty's pups are doing great. Healing well and back to their playful happy selves. We have been working on sit and wait for the past couple days and some are doing better then others. LOL. Crate training starts tonight for those going home this weekend.
Sookies pups are cute as can be. Just little tiny things that do nothing but eat and sleep. I got a couple great shots of them today I will download tonight or tomorrow.
Tootsie is going to have a sonogram in the next couple days. Her guardian mom says she is sure she is pregnant. THis is because she is not running, jumping or being her usual bouncy self. Kinda waddling around she says. That is an image that makes me smile.
After a very frustrating start to the day, a cuddle with a puppy or two always makes it better. I am definately smiling now.
Viewer Comments
Upcoming Litters
Litters planned for 2019
Piper and Ted born 2/9/19  sold
Lucy and Gunner due 4/5/19
Abby and Raphael due 5/1/19
Sammi and Gunner Summer 2019
Poppi Summer 2019
Luca and Raphael Summer 2019
---
Check Back Again for More Labradoodle Puppy Announcements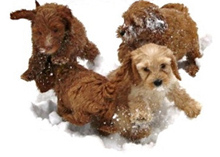 "There is no psychiatrist in the world like a puppy licking your face."
–Bern Williams
Read Testimonials »