Lyman, ME | (207) 499-2989
Yazmens litter
On Thursday we had an xray and it showed 6 puppies. I went to post the xray that my vet so kindley burned onto a cd and the silly man put the label on the read side of the CD. To funny. Yaz moved in with us and is settled in nicely. She is now on day 61 and I am so anxious for these little ones to arrive. I will be posting pictures as soon as they do.
Harley and crew are doing great. Harley went home yesterday for 3 hours and was in heaven. Got a nice grooming from her dad Jerry and spent the whole time curled up on his lap. More like sprawled across his lap. She thinks she is a lap dog and we don't want to tell her other wise. I will take new photos of them Wendsday and post them.
It is soon going to be very noisey at the SML homestead. Can't wait.......
Viewer Comments
Upcoming Litters
Litters planned for 2019
---
Check Back Again for More Labradoodle Puppy Announcements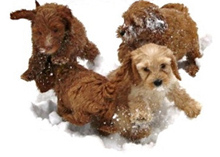 "There is no psychiatrist in the world like a puppy licking your face."
–Bern Williams
Read Testimonials »