Lyman, ME | (207) 499-2989
Policies and Procedures
All SML breeding stock will at a minimum have been cleared either by OFA or Penn hip, elbows, patella's, will be cleared of vWD, prcd tested and have eye Cerf clearance. Some have had OFA heart and complete Thyroid panel. On top of those test they are and will always be up to date on all vaccines and health checks.
We are a small breeder and only expect to have 2-3 litters a year. All SML puppies will be well socialized with other dogs and humans of all ages. They will be use to the activity of a fairly large family. Each puppy will be placed with a family that he/she will be a good fit in. I will not place a pup with you if I have any reservations on the fit with your family or lifestyle. They will go home sometime after 8 weeks of age. The pups will also be accustom to sleeping in a crate before going home. The pups are use to human touch from their teeth to the tips of their tails. I feel it is extremely important for each pup to be comfortable with hands being on him/her and to except them. We also start to train them basic commands.
A $300.00 deposit is required to be placed on our wait list. People are placed in the order their deposit and applications are received. The deposit will then be deducted from the final price of pup. The deposit is nonrefundable, unless I don't feel I can provide you with the pup you are looking for. I will call you when I have gone over your application and let you know if you are approved and what litters are coming up. We will determine at that time a time frame of when you can expect a pup.
Following is a list of what is standard with all of our puppies. Current on all vaccinations up until day they go home. Socialized, played with and held often. Micro chipped. Spayed/neutered. Crate if shipped. Blanket with mom and siblings scent on it. Toys. Sample of food they are being feed. Binder with copies of vaccination records, training tips and copies of parents' health tests. Minimum of 4 generation pedigree and your two year warranty on your puppy against any genetic diseases.
Please be advised: Pups require a lot of time and work. Adopting a pup is a huge commitment and should be thought out completely. I feel it is important to tell you we want our pups to go to homes were they will live out their lives. (Approximately 15 years) We expect their new owners to take the pup to obedience school and spend the time reinforcing it at home. We want our pups to work out for you and feel that training will help ensure this. This little guy/girl will be a loving member of your family and bring you amazing joy for years to come. I take pride in my dogs and want the best for them and for their new families.
Thank you for taking the time to read my policies.
Feel free to call with any questions.
Kelly (207) 499-2989.
Upcoming Litters
Litters planned for 2022
Winnie and Finn born 5/5/22

Maggie and Ari due June 13th
Nala /Groot for early Fall
Dalilah /Archie Fall
Maple /Archie Fall
---
Check Back Again for More Labradoodle Puppy Announcements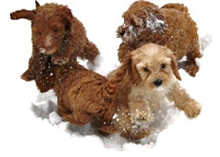 "There is no psychiatrist in the world like a puppy licking your face."
–Bern Williams
Read Testimonials »