Lyman, ME | (207) 499-2989
Sookies girls
Sookie and her 4 girls are doing great. She had a quick and easy labor and delivery and is a natural at motherhood as she was with her other litters.  She is still in the livingroom in a gated area and loving it. She will move in to one of the two nurseries on Thursday.   
Maggies 8 pups are growing and doing great. I will write more on them on Thursday while we sit outside and play in the front yard. I love this time on the ground with them. It really gives me some great insight into their personalities. THis past weekend there was a bike race for MS that went right by my house. The 8 puppies just watched them go by.  SO far no one seems bothered by any noises, cars, trucks, motorcyles, lawnmower, we even will ride bikes by the gates in the front yard to make sure they get use to that.   We also had a game of badmiten (sp) on the front lawn 25 feet from them so they heard the commotion. We have had lots of cars comming and going in the yard with lots of people(friends of my 4 children) coming up to visit them and the pups love everyone.
I will update on Thursday..
Viewer Comments
Upcoming Litters
Litters planned for 2019
Lucy and Gunner born 4/1/19
Abby and Raphael due 4/23/19
Luca and Gunner due June 3rd
Sammi and Gunner June 13th
Poppi Summer 2019
---
Check Back Again for More Labradoodle Puppy Announcements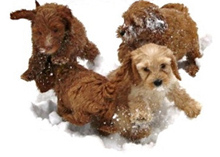 "There is no psychiatrist in the world like a puppy licking your face."
–Bern Williams
Read Testimonials »