Lyman, ME | (207) 499-2989
Puppies being born
Sophia has been in labor all day. Started pushing at 9, first pup born at 10.
10  Black Sable boy  (orange collar)
10:25  apricot boy   (blue collar)
vanilla ice cream break for Sophia
10:56 apricot girl  (purple collar)
1:43 apricot girl
3:25 black sable girl
Sophia is doing great.  Gave her food and water, changed her bedding. Now to take a nap for a few hours before the house wakes up. This deliver started out quick and then took a very long time.  I will post pictures at some point tomorrow or should I say later today.
Viewer Comments
Upcoming Litters
Litters planned for 2019
Lucy and Gunner born 4/1/19
Abby and Raphael due 4/23/19
Luca and Gunner due June 3rd
Sammi and Gunner June 13th
Poppi Summer 2019
---
Check Back Again for More Labradoodle Puppy Announcements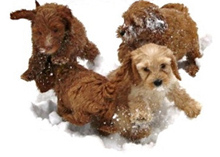 "There is no psychiatrist in the world like a puppy licking your face."
–Bern Williams
Read Testimonials »