Lyman, ME | (207) 499-2989
Yazmen is Expecting
Yazmen had her sonogram on Tuesday October 21st and she is having at least 5 or 6 pups. Dr Lynch saw that many so we are hopefull for at least 5. Yazmen looks great and is feeling fine. Eating, playing and acting completely normal. She and Ted make the most amazing babies. Their last litter together was a great success and every family is thrilled with their pup. I will be keeping one from this litter, sence it is Yazmens last litter. She will then retire and live with her family in Biddeford.
Sookie will be confirmed about November 12th.
Looking forward to puppy snuggles and kisses this Winter. It has only been just over 2 months sence pups left but it feels like so much longer. I so enjoy having babies in the house.  Keep watching.
Taking applications for for both litters and also for early 2015 litters.
Viewer Comments
Upcoming Litters
Litters planned for 2019
Lucy and Gunner born 4/1/19
Abby and Raphael due 4/23/19
Luca and Gunner due June 3rd
Sammi and Gunner June 13th
Poppi Summer 2019
---
Check Back Again for More Labradoodle Puppy Announcements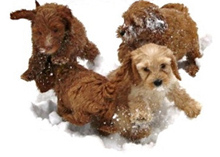 "There is no psychiatrist in the world like a puppy licking your face."
–Bern Williams
Read Testimonials »