Lyman, ME | (207) 499-2989
Happy New Year
2014 was a very good year here at SML. Many puppies born, therefor many families were made very happy last year. Lets hope 2015 is just as happy for all. So far it is good. Yaz and Sookie puppies are doing great. Everyone is growing and appears well adjusted and healthy. 
Due to unforseen things, we now have three of Yaz's pups available for adoption.  Two boys and a girl.  THis litter is amazing. Sweet gentle and very smart. Just like their momma and Daddy. Could not ask for more amazing dogs then Yaz and Ted.
Here are a couple pictures taken today. The puppy pictures will be posted tomorrow, Sunday. So check back on the Puppy page on Sunday to see the babies. If you are interested call me and I will be more then happy to tell you about this litter and their parents.
Viewer Comments
Upcoming Litters
Litters planned for 2019
Lucy and Gunner born 4/1/19
Abby and Raphael due 4/23/19
Luca and Gunner due June 3rd
Sammi and Gunner June 13th
Poppi Summer 2019
---
Check Back Again for More Labradoodle Puppy Announcements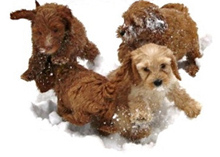 "There is no psychiatrist in the world like a puppy licking your face."
–Bern Williams
Read Testimonials »