Lyman, ME | (207) 499-2989
Puppy xray
Hope and her babies are doing great. I will get pictures soon.
Harley moved in Friday. She had her xray yesterday and they saw six babies. Now we just wait for labor to start. She is day 59. The deliver between 58 and 64. So soon.
Lola moves in this Friday and has her xray the same day.
Viewer Comments
Upcoming Litters
Litters planned for 2019
---
Check Back Again for More Labradoodle Puppy Announcements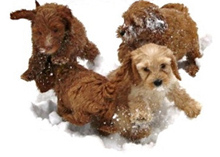 "There is no psychiatrist in the world like a puppy licking your face."
–Bern Williams
Read Testimonials »