Lyman, ME | (207) 499-2989
Spring Puppies
Sophia moves un on the14th to get ready to deliver. Her guardian family will miss her while she is here.
Hope is confirmed and is due March 22nd. Harley is confirmed and due April 1st.
Lola has her sonogram Thursday at 5:15.
Ella will be bred to Ted next week.
Ruby will be bred to Raphael about the 22nd. 
Very busy Spring full of lots of puppy love.
Viewer Comments
Upcoming Litters
Litters planned for 2019
Lucy and Gunner born 4/1/19
Abby and Raphael due 4/23/19
Luca and Gunner due June 3rd
Sammi and Gunner June 13th
Poppi Summer 2019
---
Check Back Again for More Labradoodle Puppy Announcements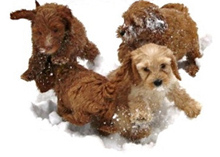 "There is no psychiatrist in the world like a puppy licking your face."
–Bern Williams
Read Testimonials »