Lyman, ME | (207) 499-2989
Lola is in labor/ Happy Easter
Lola started labor last night. I slept in our new nursery with her. My middle son movedmout so his old room is our newest nursery.  We made it thru Easter dinner and at 4:10 the first puppy arrived.  She had a oong labor and the birth is going slow so far.
4:10 red/carmel boy. Blue collar.
5:40 apricot girl w/white chest  Pink collar
6:00 apricot boy green collar
6:35 dark spricot girl purple collar
8:15 red boy black collar 
845 red boy  red collar
9:30ish apricot girl.  Orange collarTough delivery on this one. Karina and I fought hard for her.  we did not givenup and I amhappy to say she is doing good now. 
10is apricot boy. Yellow collar.
Lola is resting. She ate drank and is now resting with her 8 Easter babies. 
I think Harleisgoing to deliver tonight.  Reaky Harley, now!
3:45 black girl with white markings pink collar
4:05 black boy  blue collar
6:08 black girl  purple collar
6:30 apricot girl red collar
6:58 apricot girl  green collar 
Viewer Comments
Upcoming Litters
Litters planned for 2019
---
Check Back Again for More Labradoodle Puppy Announcements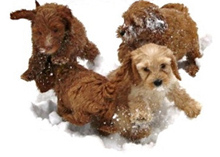 "There is no psychiatrist in the world like a puppy licking your face."
–Bern Williams
Read Testimonials »