Lyman, ME | (207) 499-2989
Photos of puppies
Ok so all of the photos are taken. I was on the computer working on them when my daughter came and asked me to take her driving. (she got her permit a week ago) so we went driving. Then we got home and she decided she wanted her trampoline. This is leaning against the garage far from were it needs to be. SO we spent hours raking the back yard were the trampoline goes, breaking ice and shoveling snow and water only to realize we couldn't move it by our selves. LOL oh how we tried.
Pictures are being worked on now. I have to crop and download them. SO sorry for the delay. I will make every effort to do new ones more often then two weeks.  Check back tomorrow for updated pictures.  My daugher has to clean tomorrow so can't bug me. LOL so I will spend the morning getting them done.
Thank you so much for your patience.
Viewer Comments
Upcoming Litters
Litters planned for 2019
Lucy and Gunner born 4/1/19
Abby and Raphael due 4/23/19
Luca and Gunner due June 3rd
Sammi and Gunner June 13th
Poppi Summer 2019
---
Check Back Again for More Labradoodle Puppy Announcements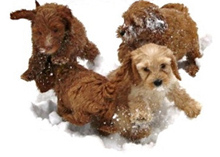 "There is no psychiatrist in the world like a puppy licking your face."
–Bern Williams
Read Testimonials »