Lyman, ME | (207) 499-2989
Ruby is ready
Ruby had her xray on Tuesday and she is having 8 or 9 pups. Last night she started panting today it has gotten really heavy. She is pacing and going out a lot. She is pacing and looking for a place to hide. Hoping she starts pushing soon. If no puppies by 8 am, we will go to the vets and have her checked.
11:50 red boy (blue collar)
12:00 red girl (pink collar)
Outside to pee
12:10 red boy (green collar)
Ok this a first. Whe ruby had the first pup she just walked away. Nothing. I cleanded him tied off cord and gave him to her. She took a couple minutes to be like ok I need to clean him. Second and third pups same thing. They were born and she didn't even seem to know they were there.  So guess I am the momma here. Rubyhas decided I should do the messy work and she will cuddle and feed them. Thats ok I got this Ruby.
1:05 red girl (purple collar)
1:12 red boy  (black collar)
1:30 red girl (orange collar)
Ruby is doing her job. LOL I think its because after puppy 5 she could bend. She is such a trooper. 
3:02 red girl (teal collar)
3:55 red boy (red collar)  this pup she had in the middle of the guest bedroom floor. She was asking to leave the room I said no no Ruby. So she walked towards th closet and squated. Out came red boy. What an adventure.
 8 is the final number. After a short nap she is happily taking care of her pups.
Viewer Comments
Upcoming Litters
Litters planned for 2019
---
Check Back Again for More Labradoodle Puppy Announcements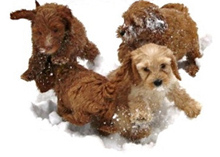 "There is no psychiatrist in the world like a puppy licking your face."
–Bern Williams
Read Testimonials »