Lyman, ME | (207) 499-2989
Things are winding down
Pictures are up of Rubys puppies. THey are so cute and all look so much alike. 
Hope, Harley and Lola's pups have all gone home. The last one left yesterday. This process always warms my heart and makes me so happy. Sending puppies home is a feeling I cannot explain. THe words that clients say to me make my day, week even month. One family when they picked up brought a gift for my daughter.   She talked to my daughter about going to med school when they came for a visit. My daughter has known for years that med school was were she was going to go. When they picked up their pup they gave Karina a Medical dictionary. Karina loves it and reads it all the time. SO very kind of them. Another family picked up their dog and brough a friend who has one of my past pups, which they brought with them. THis pup was tiny, nick named Peanut. It was so good to see him and how good he is doing and how big he has gotten. His owners were so kind and had the nicest things to say to me.
Clients just have a way of making me realize this is were I belong. Creating these dogs, loving them and providing them ot families that will love them for life.  Thank you to all my past and present clients for being you. I appreciate your business, kind words and references.  You all rock.
Check out Rubys pups on the puppy page.
Viewer Comments
Upcoming Litters
Litters planned for 2019
Lucy and Gunner born 4/1/19
Abby and Raphael due 4/23/19
Luca and Gunner due June 3rd
Sammi and Gunner June 13th
Poppi Summer 2019
---
Check Back Again for More Labradoodle Puppy Announcements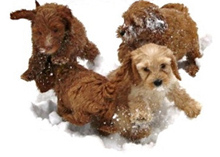 "There is no psychiatrist in the world like a puppy licking your face."
–Bern Williams
Read Testimonials »