Lyman, ME | (207) 499-2989
Ruby
11:25 Ruby moved in on Monday. She had her xray which showed 9 or 10 puppies.
Last night labor started just before dinner. We were up all night. I set my alrm for every 2 hours to check if she was progressing. At about 7 she started going out every 15 minutes.  She was clearly getting ready. She pushed for a while. She worked realy hard for that first puppy.
9:40 boy w/white on chest   blue collar
10:20  boy  green collar
10:45 outside to pee and puppy three is born on the grass. Thankfuly I was with her and had a towel with me.  Girl pink collar
11:25 stillborn pup. Always difficult. Ruby is doing just fine.  I believe my daughter saw this in xray.
11:43 boy  yellow collar
11:52 boy black collar
12:40 boy  white collar. He had a tough start. Requid help. He is my angel boy. I fought hard and cried tears of joy when he finally started fighting back.
1:42 boy  red collar
3:50 boy orange she pushed over an hour and was exhausted.  My daughter drove us to the vets to make sure she was ok. They did an xray and she has 2 more puppies. My gosh. So they drew blood, did ultrasound to make sure heartrates are good. Gave her a shot of oxi and calcium. She had a pup on the way home.
4:45 boy teal
8 boys and 1 girl. This is a first.
5:15 boy no collar. 
Time to cleanup feed my other pups, mom  and my daughter.
Viewer Comments
Upcoming Litters
Litters planned for 2019
---
Check Back Again for More Labradoodle Puppy Announcements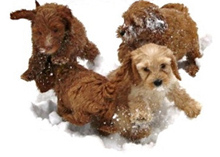 "There is no psychiatrist in the world like a puppy licking your face."
–Bern Williams
Read Testimonials »