Lyman, ME | (207) 499-2989
Daisy is delivering
Yesterday I picked up Daisy to take her in for an xray for puppy count. She is having 6. Perfect size litter.  Today she has been very clingy and not eating. Around 12 she started bearing down slightly. 1 her water broke.  She was very nervous.
1:55 she had first pup on office floor. she wanted nothing to do with him. I cleaned him, got him a heating pad. tried to get him to nurse and she wants nothing to do with that. I will gently get her to let him nurse so her hormones kick in. Thankfully not many moms do this. It is scary for them for sure so I get it.
1:55  Red boy  (blue collar)
2:40 still not a second pup. I got her settled and got blue boy to nurse and now she is cleaning him and doing great. 
2:55  apricot boy with white on head and chest (red collar)
3:01  Red boy   (green collar)
Looks like another litter heavy in boys. Lets hope the next three are girls.
3:28  red girl looks like she has a large white patch on her chest.(pink collar)
3:59  red girl  (purple collar)
Viewer Comments
Upcoming Litters
Litters planned for 2019
Lucy and Gunner born 4/1/19
Abby and Raphael due 4/23/19
Luca and Gunner due June 3rd
Sammi and Gunner June 13th
Poppi Summer 2019
---
Check Back Again for More Labradoodle Puppy Announcements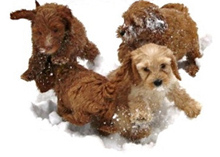 "There is no psychiatrist in the world like a puppy licking your face."
–Bern Williams
Read Testimonials »