Lyman, ME | (207) 499-2989
Ruby
Picked Ruby up from her guardian family on Friday. She had her x-ray for puppy count, he saw 6 or 7.  Feels strongly there is 7. Today Ruby was going out a lot and has now decided to put her self in the nursery. She was shaking at about 7:45 so my daughter and I got her whelping box ready. (Shaking is a sign labor is coming) While we were doing that Ruby came in the room and hasn't left.  We are watching the Pat's game so I get up every 15 minutes to go check her.  She wags her tail everytime I go in. No panting yet, just chilling in the room. This is her third litter so she knows were to be. Love this girl.
Here it is Tuesday and still no pups. She is just taking her time. No labor and still eating. Let's hope this happens soon.
Lucy comes this weekend to be bred. So in a perfect world Ruby would deliver tomorrow, so I can pick up Lucy on Thursday. Fingers crossed.
Viewer Comments
Upcoming Litters
Litters planned for 2019
---
Check Back Again for More Labradoodle Puppy Announcements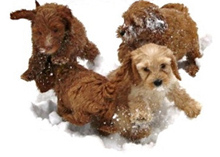 "There is no psychiatrist in the world like a puppy licking your face."
–Bern Williams
Read Testimonials »