Lyman, ME | (207) 499-2989
Ella is delivering
Picked Ella up yesterday. She hadn't eaten anything. She wouldn't eat for me either. She stayed next to me on the couch during the Superbowl.  This morning I took her in for her x-ray at 930 for puppy count. They say 7. She threw up 5 times this am. 10:30 I notice her baring down. No signs of labor at all, not even panting.
11 am apricor girl. Pink collar
11:25  apricot boy. Blue collar
11:35 apricot boy. Green collar
12:10. Red Girl. Purple collar
1:05  boy  black collar
Momma resting.
2:20 girl. Orange collar
2:25 girl  yellow collar
Now that she's done I will move Ruby into the puppy room with her pups. Clean the nursery, wash Ella up and move Ella and her babiesinto the nursery. Then feed her dinner. She did such an amazing job. Everyone is nursing.  
Viewer Comments
Upcoming Litters
Litters planned for 2019
Lucy and Gunner born 4/1/19
Abby and Raphael due 4/23/19
Luca and Gunner due June 3rd
Sammi and Gunner June 13th
Poppi Summer 2019
---
Check Back Again for More Labradoodle Puppy Announcements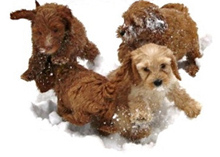 "There is no psychiatrist in the world like a puppy licking your face."
–Bern Williams
Read Testimonials »