Lyman, ME | (207) 499-2989
Lucas turn for puppies
Yesterday was a completely normal day. Luca acted like she always does, maybe a little bit more tired. She had none of the normal signs of labor at all, not even panting. Karina was on the couch with her at 9:30 and said she is acting like she is lining the pups up. This is when they give little pushes. She went to bed and asked me to check on Luca before I went to bed at Midnight. 10:30 she said Luca is pushing alot harder. So I set everything up and Luca had her first pup on my daughters bed. Thankfully we set large pee pads under and around her so no mess on the bed.
11/20/17
11:24  Pink collar girl
11:43  Purple collar girl
11:58  Blue collar boy
12:54  Black collar boy
xray showed 4, Luca was calm so I cleaned up prepared food for her came back into the room with her food and water and she had another pup.
1:20  Orange collar girl
Let me just say Luca never acted like she was in labor at all even while delivering. If she wasn't pushing I never would have known she was having babies. Mom and babies are doing great.
Viewer Comments
Upcoming Litters
Litters planned for 2019
Lucy and Gunner born 4/1/19
Abby and Raphael due 4/23/19
Luca and Gunner due June 3rd
Sammi and Gunner June 13th
Poppi Summer 2019
---
Check Back Again for More Labradoodle Puppy Announcements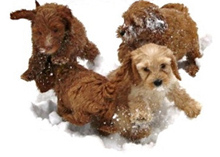 "There is no psychiatrist in the world like a puppy licking your face."
–Bern Williams
Read Testimonials »