Lyman, ME | (207) 499-2989
Lucy is delivering
Lucy had her xray this morning and she is having 5 puppies. It was a restless evening of pacing and panting. Around 11 I noticed she had that look in her eyes and knew time was close. So at 12:30 I cureled up on the couch with her.
2:45 am  light apricot Boy..  (Blue)He was born on the couch. I moved them to the nursery, she finished cleaning him while I threw the blanket into the wash. He is nursing already. His toes are white.
3:15  apricot boy black 
4:03  cream boy with mismarks (green)
4:15 apricot boy.
Okay I think they are all boys. I am really tired. THought the 2nd was a girl. but think its a boy now. Momma is wrapping herself around them not wanting me to touch them so I am going to leave them and check later. One more to go then I will give her some food.
4:29 last pup I believe is a girl. 
Feeding Lucy and cleaning up. Momma and babies are doing great.
Viewer Comments
Upcoming Litters
Litters planned for 2019
---
Check Back Again for More Labradoodle Puppy Announcements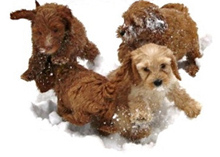 "There is no psychiatrist in the world like a puppy licking your face."
–Bern Williams
Read Testimonials »